Golshifteh Farahani Dazzles in Givenchy's Draped Jersey Gown at "Tyler Rake: Extraction 2" Netflix Premiere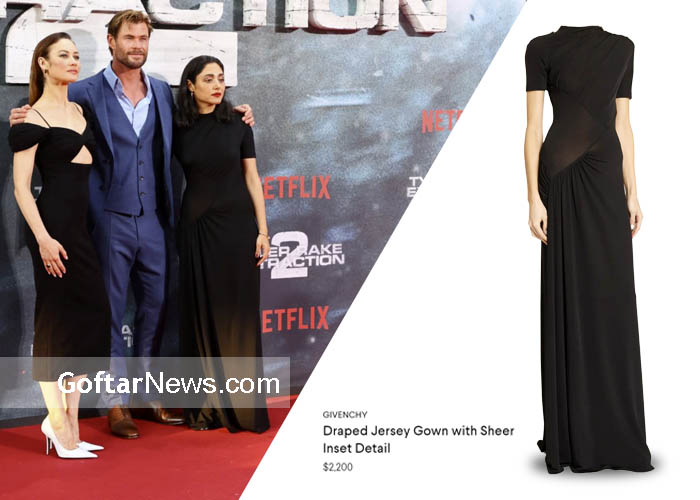 Golshifteh Farahani Shines in Givenchy's Draped Jersey Gown with Sheer Inset Detail
Golshifteh Farahani's outfit at the "Tyler Rake: Extraction 2" Netflix premiere in Berlin was nothing short of breathtaking. She graced the red carpet wearing a stunning ensemble by the renowned fashion house, Givenchy. The standout piece was a draped jersey gown that exuded elegance and sophistication.
The Givenchy gown perfectly accentuated Golshifteh's graceful figure, hugging her curves in all the right places. The flowing fabric cascaded down her body, creating a mesmerizing silhouette as she walked. The draping added a sense of movement to the gown, creating a captivating visual effect.
One of the most striking features of Golshifteh's gown was the sheer inset detail. Delicately placed in strategic areas, the sheer panels added a touch of sensuality and allure to the overall look. They provided glimpses of skin without being overtly revealing, enhancing the gown's overall sophistication.
The color palette of the gown was equally captivating. Golshifteh Farahani opted for a classic black, which exuded timeless beauty and elegance. The monochromatic choice allowed the silhouette and design details to take center stage, ensuring that all eyes were on her as she made her entrance.
To complete her red carpet ensemble, Golshifteh chose minimalistic accessories that enhanced the overall look without overpowering it. She wore statement earrings that added a touch of sparkle, complementing the gown's elegance. Her hair was styled in loose waves, cascading down her shoulders, allowing the gown to remain the focal point.
Golshifteh Farahani's Givenchy draped jersey gown with sheer inset detail was a true fashion statement at the "Tyler Rake: Extraction 2" Netflix premiere in Berlin. It showcased her impeccable sense of style and her ability to effortlessly carry off high-fashion looks. Golshifteh's outfit not only highlighted her beauty but also reflected her confidence and individuality, making her a true fashion icon on the red carpet.