Golshifteh Farahani Shines at 'Tyler Rake 2' Premiere in Madrid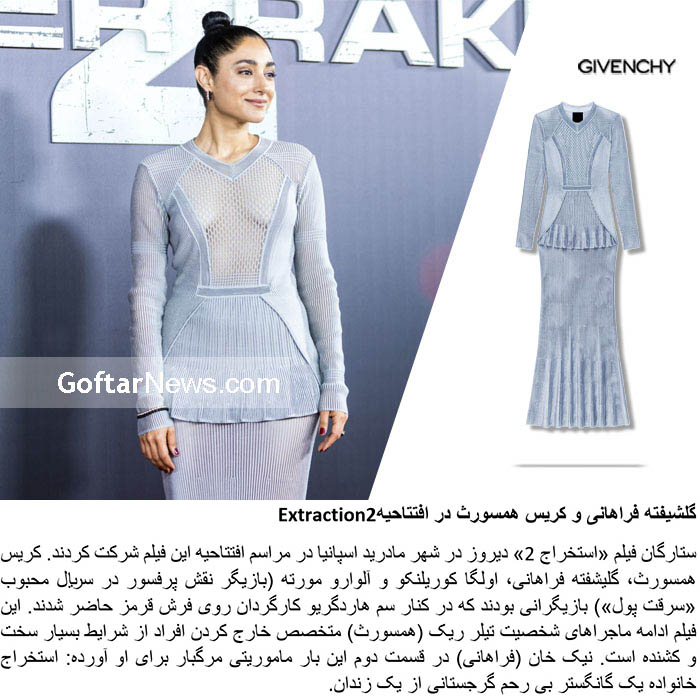 Golshifteh Farahani, the talented Iranian actress, made a stunning appearance at the highly anticipated 'Tyler Rake 2' premiere held in Madrid, Spain on June 7, 2023. Alongside her co-stars Chris Hemsworth, Sam Hargrave, and Olga Kurylenko, Golshifteh Farahani captivated the audience with her undeniable charm and undeniable talent. Let's delve into the remarkable journey of Golshifteh Farahani and her unforgettable presence at the Madrid premiere.
Born on July 10, 1983, in Tehran, Iran, Golshifteh Farahani's passion for the performing arts was nurtured from an early age. Growing up in a family deeply involved in theater and acting, she was exposed to the captivating world of storytelling and performance. It was this early exposure that ignited Farahani's lifelong dream to pursue acting as a career.
Farahani's breakthrough moment came in 2008 when she portrayed the role of Rouhi in the critically acclaimed Iranian film, "About Elly." Her exceptional performance garnered immense praise and recognition, propelling her into the spotlight and establishing her as a remarkable talent to watch. The film's success opened doors for Farahani, allowing her to showcase her skills on an international level.
Despite her rising fame, Golshifteh Farahani faced challenges in her native country due to her bold choices and outspoken nature. This ultimately led to a ban on her work and forced her into exile. Nevertheless, Farahani remained resilient and determined, using her talent to convey powerful messages and advocate for artistic freedom.