Allahyar Sayadmanesh Ties the Knot with Duygu Güzleyen: A Love Story Transcending Borders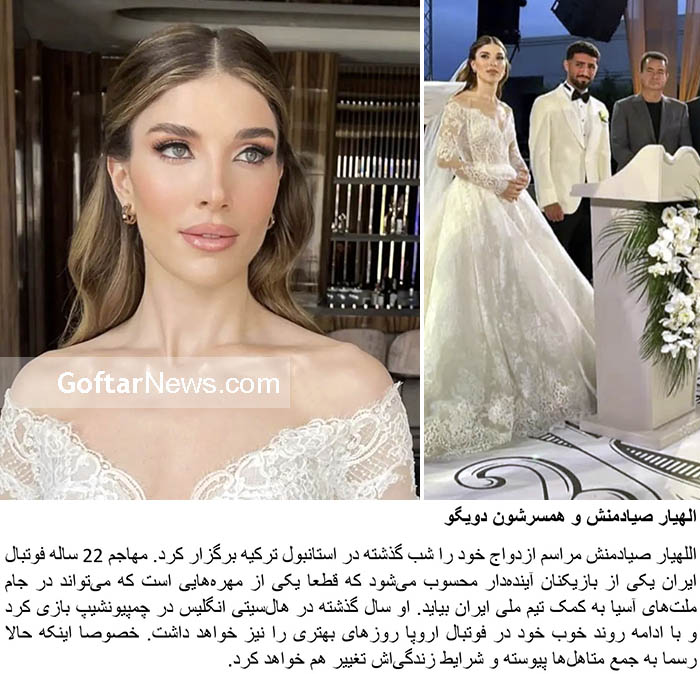 Allahyar Sayadmanesh's wedding ceremony in Istanbul was a grand affair, attended by family, friends, and notable figures from the football world. One person who stole the spotlight alongside Sayadmanesh was his wife, Duygu Güzleyen. Duygu, a Turkish native, has been a pillar of support for Sayadmanesh throughout his career, and their union marks a beautiful blend of cultures and backgrounds.
Duygu Güzleyen, with her grace and elegance, adds a new dimension to Sayadmanesh's life. The couple's love story blossomed over time, transcending borders and cultural differences. Their wedding ceremony was a celebration of their shared commitment and a testament to the power of love that transcends boundaries.
The wedding ceremony of Allahyar Sayadmanesh, the 22-year-old Iranian football striker, took place last night in Istanbul, Türkiye. Sayadmanesh is considered one of the most promising players in the sport and is expected to contribute significantly to the Iranian national team in the upcoming Asian Nations Cup. He had previously played for Hull City in England's Championship league, and his impressive performances indicate that he will continue to thrive in European football. With his recent marriage, Sayadmanesh's personal life is about to undergo a significant transformation.
The presence of notable figures at the wedding ceremony added to the excitement of the occasion. Acun Ilicali, the owner of Hull City, attended the event, highlighting the support and recognition Sayadmanesh receives from the club. Additionally, Liam Rosenior, the team's manager, and Ozan Tufan, a prominent midfielder, were also present to celebrate the joyous union.